Call us today on Telephone: +44 (0) 1639 730276

DONATE
TICKET PRICES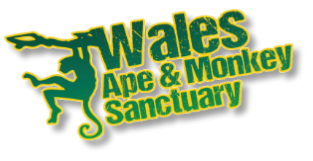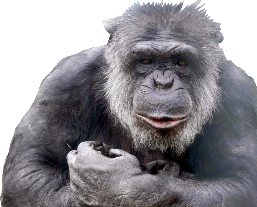 The sanctuary rescues and provides a home for many types of unwanted animals, especially primates, such as chimpanzees, gibbons, baboons, spider monkeys, vervets, capuchins, tamarins, macaques and marmosets.
Although we specialise in the care and protection of primates we cannot stand by and see other animals in need of help. You will therefore find meerkats, lemurs, african savannah cats, serval cats, wolf dogs, horses, donkeys, red foxes, pigs, african grey parrots and others at our sanctuary. All are equally important members of our extended family.

Animal sanctuary or zoo! What's the difference?
Zoos
Previously called menageries, zoos have been around for much longer than sanctuaries. Three thousand five hundred years ago the ancient Egyptians were keeping hippos, hartebeest, elephants, baboons, wildcats and other wild African animals in menageries for public exhibition.
King John created a menagerie of exotic animals, including lions, at the Tower of London in 1204 and Henry the 3rd was recorded as receiving three leopards as a wedding gift from the Emperor of Rome.
The term zoo came into common use after the establishment of the London Zoological Gardens in Regents Park in 1928 and today over 1000 major zoos, and many more smaller ones, now exist worldwide. With their primary objective being to provide a public attraction it is no surprise to find that 80% of the World's major zoos are in cities.
In the not so distant past Zoos have even displayed humans in cages. In 1906 the Bronx Zoo in the USA displayed a Congolese pigmy named Ota Benga in a cage with chimpanzees. They thought it would be interesting for people to see evolution at work.
Africans were also displayed in cages at the 1931 Paris Colonial Exhibition, and incredibly as late as 1958 Congolese natives were exhibited in a cage at the EXPO 58 exhibition in Brussels.
The history of zoos therefore paints a clear picture of their "raison d' ètre". They are private or public exhibits, almost exclusively with profit as their prime motivation. Over the past fifty years public concern and ethical opinion has changed the way zoos present themselves, and to a much smaller degree how they operate.
To distance themselves from the stigma that zoos justifiably acquired many have changed their names to become conservation parks, bioparks, or just parks and gardens. Rather cynically some now refer to themselves as sanctuaries, but continue to operate as zoos, hoping that the public will not recognise the difference.
In any event most now avoid any mention of the word "Zoo" and go to great lengths to emphasise their role in conservation. The sad truth is that zoos make a minuscule contribution to conservation. Associating themselves with conservation however makes for substantial contributions to the zoo.
Another popular justification for keeping animals in captivity is research. The most tangible product of this research over the past thirty years however has been the discovery of better ways to breed animals for use in zoos.
Around 25% of all the animals on display in a zoo will have typically been bred in the zoo and many of these will have displaced an equal number of older animals, which will then have become unwanted surplus and been disposed of. In other words around 25% of a zoo's animals are replaced every year, because young animals bring in more visitors and are less likely to require costly veterinary attention.
Some zoos butcher their unwanted animals and use them as feed, while others try to sell them on to other zoos for breeding or find someone else who is willing to take them. What happens to them from that time onwards is usually of no concern to their former owners.
Of course new animals are also purchased by zoos from the wild. They need these to ensure sufficient genetic diversity in their breeding stock. Unfortunately around seventy five percent of wild monkeys and apes die within twenty months of entering captivity.
Zoos create captivity where it previously didn't exist. They also perpetuate it by breeding animals into a life of captivity. The chances of captive animals ever being returned to a viable life in the wild is extremely slim. Not only is their no financial gain for the zoo, and hence no motivation, but the animals themselves will not have acquired the essential survival skills needed to feed and protect themselves, nor the resistance to the conditions and pathogens that they will encounter in the wild environment.
In summary, zoos breed animals and import others from the wild. In doing so they consign them to a life of captivity and a very uncertain future with respect to their extended care. In addition their primary objective in keeping animals is for exhibition to the public and consequently for profit. Zoos are often supported as public amenities by local councils and funding agencies.
Sanctuaries
Exotic animal sanctuaries are a relatively recent phenomenon in the developed World, partly brought about by the activities of zoos and circuses. Public attitudes have changed and animals are now quite justifiably seen as having rights that progressively need to be defended.
A true sanctuary does not have a breeding program. Breeding perpetuates captivity.
A true sanctuary will never import animals from the wild; this would create captivity where it did not previously exist.
A true sanctuary will not act as a source of supply of animals to other organisations or individuals.
At Wales Ape and Monkey Sanctuary we try, by educating people, to reduce the number of animals being taken from the wild or bred into captivity and we hope that one day sanctuaries will no longer be required. We are unlikely to see this in our lifetime however and recognise that many misguided organisations and individuals are still committing wild species to captivity from which they will have no hope of escape and will subsequently become seen as an unwanted burden.
In the meantime we are dedicated to providing unwanted animals with a comfortable and dignified existence for the remainder of their natural lives. This means putting the needs of the animal first rather than ensuring it is simply displayed to the public in the optimum way.
As sanctuaries are not intended to be public exhibits they tend to be the poor relations when it comes to funding support. Invariably sanctuaries only exist by the support of their operators, volunteers and public charity. However they put their support to best use by focusing their efforts on the welfare of the animals and not forcing them to live in unnatural or stressed situations just to please the visitors.
At Wales Ape and Monkey Sanctuary we welcome visitors to come and see our work and to participate in any way they can to help us continue to provide a vital service that few others in Europe are prepared to offer to unwanted and sometimes infirm monkeys and apes, especially those that require special care.

As well as being an accredited Quarantine premises Wales Ape and Monkey Sanctuary has had Approval under the Balai Directive for 16 years. In the UK the Sanctuary is constantly under scrutiny by APHA (UK Veterinary Ministry), Zoo Inspectorate, Local Council Authority and Fire Protection Services.


Advisors include:
Dr Rhys Jones Patron FLS FRSB MCIEEM CEnv
Dr Jones has decades of International scientific research and conservation expertise, and his support is invaluable to the Sanctuary.
PROFESSIONAL MEMBERSHIP AND LICENCES:


Fellow of the Linnean Society, London (FLS).

Fellow of the Royal Society of Biology (FRSB)

Full membership Chartered Institute of Ecology & Environmental Management (MCIEEM).

Chartered Environmentalist (CEnv)

Member of the Cardiff Bat Group.

Animals (Scientific Procedures) Act, 1986 Universities' training group in modules to 4 in Rat, Mouse, Rabbit and Guinea pig, University of Wales College of Medicine.

Animals (Scientific Procedures) Act, 1986 Universities' training group in modules 1 to 3 in Venomous snake, University of Liverpool.

Great crested newt licence (NRW, Wales).

Great crested newt licence (Natural England).

White clawed Crayfish licence (NRW, Wales).

CONSULTANCY EXPERIENCE: over 25 years

Mitigation, for developments where protected species occur.

Report writing, protected species reports, mitigation reports, monitoring reports, experience of writing Environmental Impact Assessment reports, working on SWTRA schemes.

Scientific Advisor and Presenter: Discovery, National Geographic, The Smithsonian Channel, ABC, Channel 5 and BBC One
Dr Colin Goldner PhD in behavioural Psychology and member of the German Primatological Society, and CEO Great Ape Project Germany. Numerous publications on apes and monkeys in the entertainment industry.
Salvador Marin Lillo DVM PhD specialist in wild animal and zoological medicine. Collaborating veterinarian of the AAP Primadomus Centre, Villena, Alicante, Spain and Imaging diagnosis technician.
Rona Brown CEO at PAWSI and Consultant in Animal Welfare
Nuria Cabrito Moliner Biologist with zoology speciality and experience in primate recovery centres in Mexico and Primadomus. Training advisor to zookeepers and veterinary technical assistants and one of the founders of Animalia Protection.
Diana Plange Berlin's first Animal Protection Commissioner has visited and approved Wales Ape and Monkey Sanctuary
International Primate Heart Project, Cardiff and Great Ape Heart Project Zoo Atlanta.
Asli Han Gedik Founder Wild @ Life. Wales Ape and Monkey Sanctuary have helped to finance a Ranger and a primate nurse for confiscated orphan chimpanzees in Angola. We have also provided much needed equipment for the Rangers.
Dr Jeffrey Vidt USA specialist in Mucinosis
Stuart Scott Director CLP Education Consultant
Trustees and Staff with Science qualifications:
Jan Garen BSc PGCE
Graham Garen Design Engineering and Ballistics Expert
James Moore Msc
Andrew Morris BSc Psychology
Dr Jyoti Patel
Nicola Pollard Head Keeper BSc Zoology, LLM Environmental Law and Management
Megan Price BSc Zoology, Consultant Ecologist
Elizabeth Ross Bsc
Wales Ape and Monkey Sanctuary have a long history of collaboration and consultation with other groups like IPPL, the Hepatitis B Foundation in USA, University of Swansea Imaging Department, Hematology Department at Jefferson Hospital PA, Seed Madagascar, Baboon Matters Trust SA, Haddon Training for Apprenticeships in primate care, GRAAL, KSPATH and laboratories throughout Europe.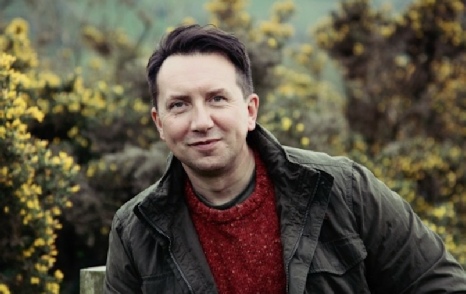 I am constantly reassured by the great work the Wales Ape and Monkey Sanctuary undertakes and delighted to be able to continue my support of their work to make sure unwanted primates have a safe and happy home here in Wales.'
I am very honoured to be a Patron of the Wales Ape and Monkey Sanctuary. I first got involved with the Sanctuary after they featured on my network BBC One primetime television series 'Rhys Jones's Wildlife Patrol'. They were generous enough to allow me to be involved with two rescues, those of Bili the chimpanzee and Titch the mandrill.


Since then, we have worked together on numerous occasions and built a fabulous relationship, which has led to me being asked to be a Patron of the Sanctuary. The Wales Ape and Monkey Sanctuary have saved unwanted primates from a number of zoos and private collections from across Europe.


I have witnessed first-hand how many of these animals have needed extensive veterinary care and labour-intensive rehabilitation. Often the sanctuary will take in other animals in need, from wolves to horses. However, all this costs money and the Sanctuary is after all a charity. That's why I am very proud to support my friends and offer whatever help I can to ensure everyone is aware of the great work they do.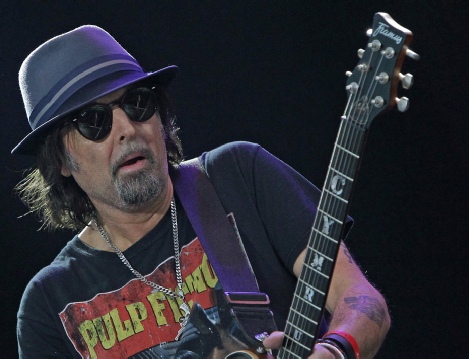 Phil Campbell was previously in rock band Motorhead and is now in his new band 'Phil Campbell and the Bastard Sons'. PCATBS have a new album out at http://www.philcampbell.net/
Phil has been a long standing supporter of our sanctuary and has been in touch over the years regarding various campaigns and plights.
The most recent support has been throughout the pandemic and even donating gig tickets to us as a prize for any of his UK tours. With Phil's help we raised £7,445 and this came at such a crucial time.
Phil is very active on twitter and Instagram, always re-tweeting and re-sharing which is always a huge help.
Quote from Phil:
I have followed the sanctuary for a number of years and did not hesitate to become one of their patrons when asked.
I urge you all to come down to WAMS in Wales and help support all their rescued primates and animals.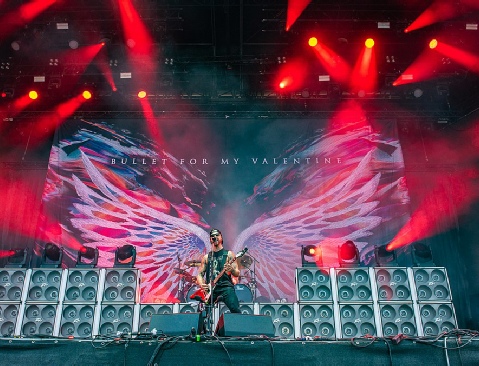 Padge and his girlfriend Jen visited our sanctuary in Sept 2019. They loved seeing all the different animals and absolutely loved two of our chimps, Ronnie and Nakima!
They had such a great time as soon as they got home they both started following us on Instagram and Twitter.
After a few direct messages, we asked Padge to be our Patron. Since then, Padge has always supported us.
We did an appeal for ranger equipment to be sent out to Angola and both Padge and Jen donated 2 huge Bergen's full of equipment. Padge tweets, re-shares on Instagram and is always at the end of the phone should we need his help.
Through the pandemic, again, Padge came to our rescue. We locked down the sanctuary on the 23rd March 2020 and needed to desperately raise funds for our animals. We decided on a raffle. Padge personally donated BFMV merchandise, guitar picks, signed DVD's & t-shirts. With his help we managed to raise a whopping £7,445.
Quote from Padge:
"The sanctuary holds a special place in my heart. I really enjoyed my first visit and I'm happy I can help in any way. The work the sanctuary carries out is highly commendable. Every animal is rescued and is given the best life possible"
The chimpanzees and other animals at the sanctuary had nowhere else to go and it is comforting to know that these creatures and others like them will always have a home there.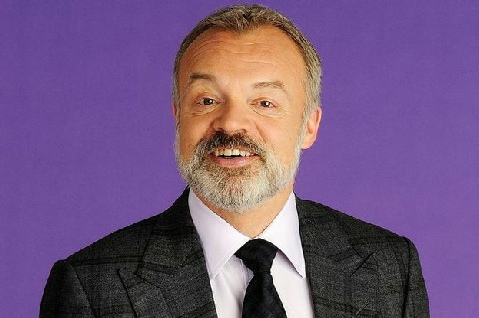 Graham Norton the well known and well loved chat show host and consummate comedian has been a patron of our sanctuary since the year 2002.
Graham, born in Clondalkin near Dublin honed his media skills in San Francisco, USA, before becoming known through his appearances as a regular panellist on BBC Radio 4's Loose Ends program.
He originally made his mark as a comedian but became an international star of television when he brought his unique style of wit and humour to chat shows with the BBC's Graham Norton Show.
He is a man of many parts however, which he proved when he was given the difficult job, and some would say thankless task, of hosting the European Song contest.
James Cordon and Sheridan Smith were so pleased to meet the animals that both agreed to become patrons of the sanctuary.
They appeared together in the second series of "Gavin and Stacey" and have many other TV and theatre successes to their credit.
Sheridan Smith, OBE - came to prominence on television for her roles in comedy shows Two Pints of Lager and a Packet of Crisps, Love Soup, Gavin & Stacey, Grownups and Benidorm.
James Corden, OBE - actor, comedian, television host, and singer. He hosts The Late Late Show with James Corden, a late-night television talk show on CBS
Pictures below of James' and Sheridan's visit to the sanctuary.
James Cordon and Sheridan Smith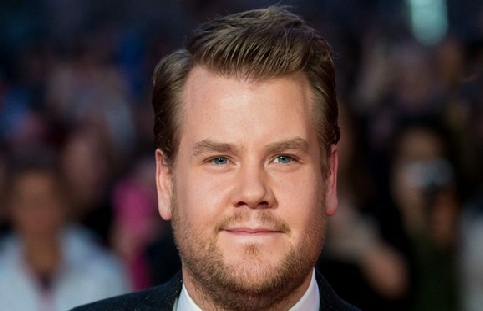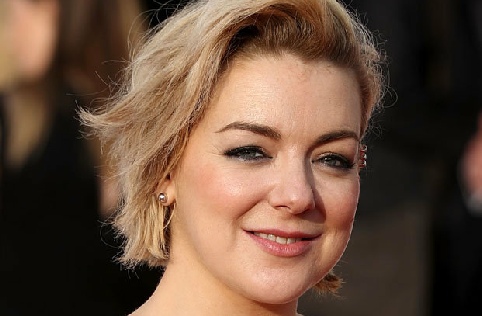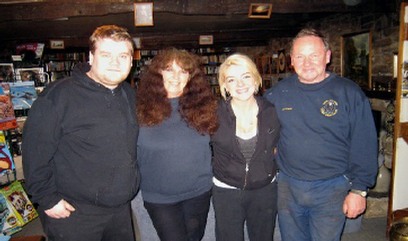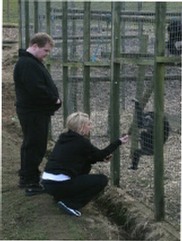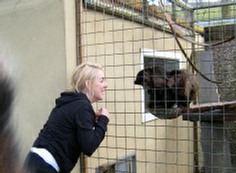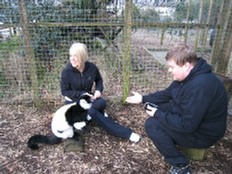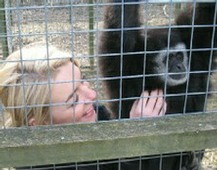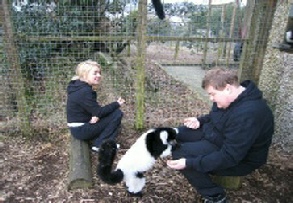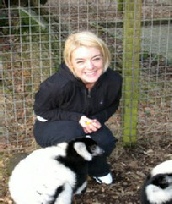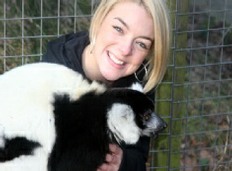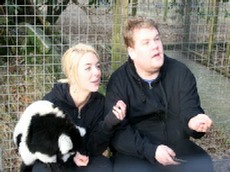 We would like to thank Alan at View Web Design for designing and donating the website to
Wales Ape & Monkey Sanctuary....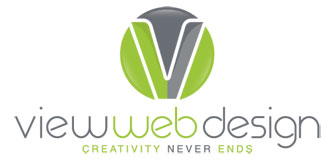 Great Ape Project – GAP is an international movement created in 1994. The main purpose is to guarantee the basic rights to life, freedom and non-torture of the non-human great apes – Chimpanzees, Gorillas, Orangutans and Bonobos, our closest relatives in the animal kingdom. For that, the project created the World Declaration on Great Primates, document that turns these rights official.
Today the International Great Ape Project, consisting of independent institutions in Brazil, Chile, Cord d'Ivoire, Germany, Mexico, Spain and Uruguay, has a new and therefore eighth national chapter: United Kingdom.
The Wales Ape & Monkey Sanctuary (WAMS) has joined the Great Ape Project as a separate UK section.
This is especially important for the German and Spanish GAP-chapters, as there has been no primate research on the GAP in Europe. WAMS is now official GAP-Sanctuary Europe, which gives us the possibility to exert a much greater pressure on zoos and circuses, to give up primates from bad habitats. In addition, we have a much better position in dealing with veterinary authorities when it comes to the official seizure of primates. Until now, both zoo and circus operators as well as the respective competent authorities were able to reject our claims, even in the case of clearest violations of the animal welfare law. There was simply no suitable place where the animals could have been permanently rehomed.
WAMS has all the necessary licenses to import primates from abroad to the United Kingdom and to keep them permanently. In contrast to the three other centers for primates in Europe, the WAMS pursues a strict no-way-back-to-a-zoo philosophy. The three other "Sanctuaries", on the other hand, cooperate closely with zoos and, where appropriate, return their animals or seized animals. One of these "Sanctuaries" is even engaged in breeding programs for zoos.
WAMS is personally known to us: some time ago we were involved in the transfer of two chimpanzees from the Zoo Delbruck to Wales
(see: https://www.greatapeproject.de/delbrck/ ). The founders and trustees of WAMS - Jan and Graham Garen and their dedicated team - have been working very reliably, professionally, and in full compliance with the principles of the GAP.
Click Here to to learn more about Great Ape Project
Click Here to to learn more about Great Ape Project Europe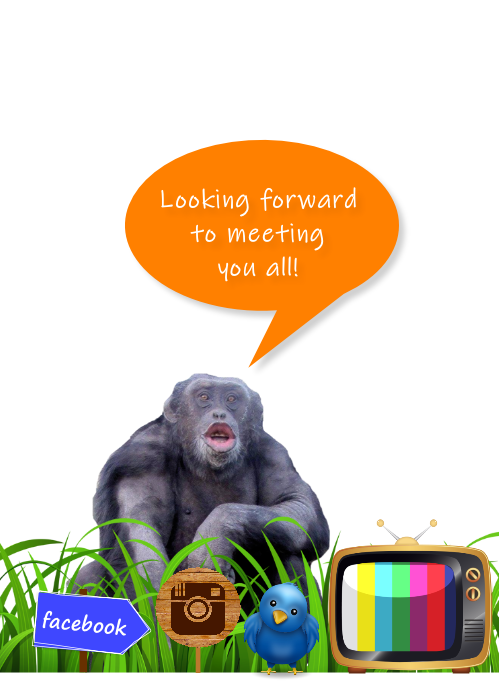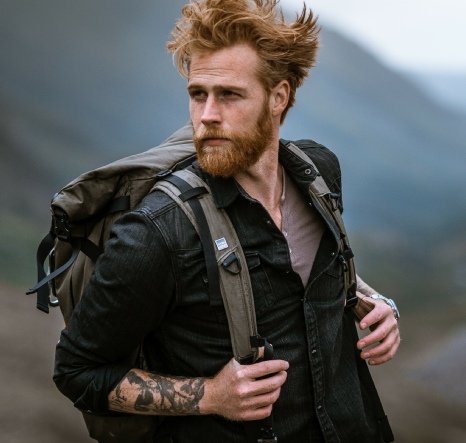 Gwilym first visited the Sanctuary around 10 years ago with family when he lived in Wales.
Originally from Cardiff, Gwilym has undergone an extreme transformation from overweight office worker to becoming an international model and has grown a social media following of over 300,000 from sharing his work and travels around the world.
Following his visit to the sanctuary and travelling through Africa and Peru, Gwilym has developed a passion for wildlife photography and has decided to pivot his work to focus on conservation, adventure travel and all things great about the natural world. He is current studying a BSc in Environmental Science.
"The first visit nearly a decade ago has stuck with me as one of my most memorable experiences. I couldn't help but be moved by all of the stories of the animals and the care and attention the Sanctuary gives. I'm really looking forward to working closer with the Sanctuary in the future and giving support to their amazing work"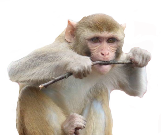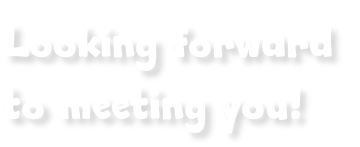 TICKET PRICES